I've hit a snag in sewing my dress... I've never sewn a neckband before, so while I wait for my mother to help me sort that out, I'm sort of stuck in sewing limbo. I don't want to start a major project, and I don't have any patterns on hand anyways. I do however have the fabric. My grandmother gave me this wonderful hunter green light wool, and I'm just dieing to make into something for fall/winter! I've got several small projects that I'm considering working on, but I just haven't felt motivation yet. I really need to get the whip cracking though, I have wayy to much fabric stored, and there is most likely more on the way, so whats here needs to get used, or let go (I do have a bit of my mother in me... I just can't stand it when then start looking junky- some clutter is ok, but overcrowding is not).
Just a quick little plug here, but the wonderful Sara Mari over at
Moments Like Diamonds
is having a giveaway for some cute accessories. Check it out
here.
We had guests for Labor day dinner, so bonus outfit!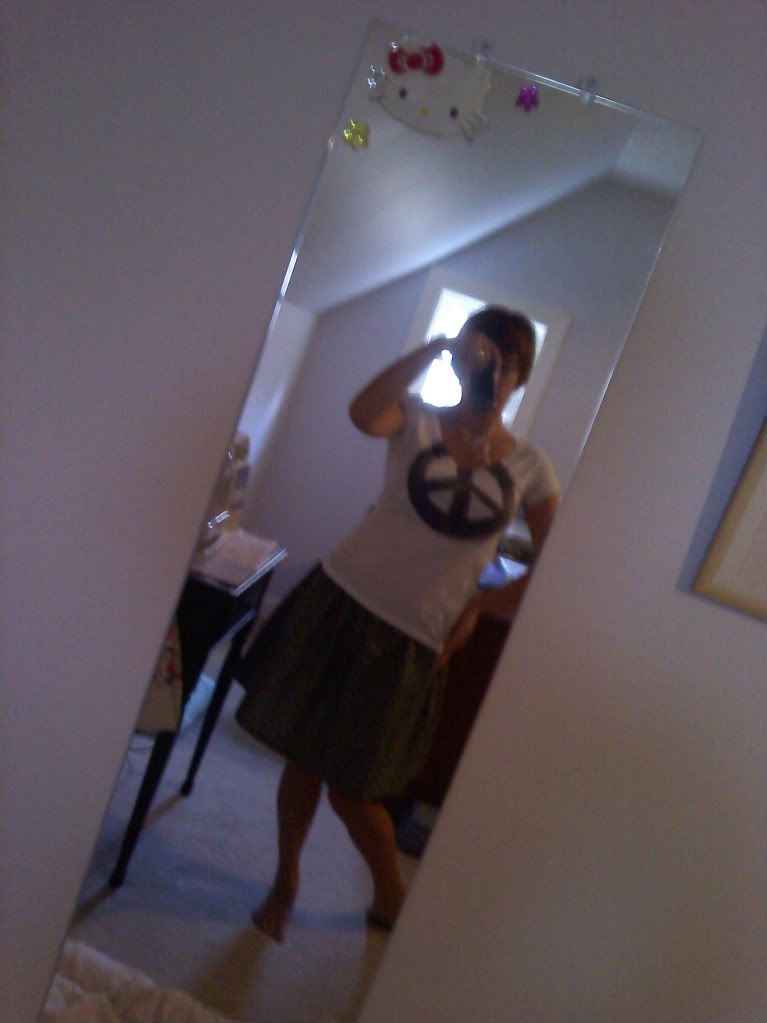 I made the skirt, the tops from target. I wanted something girly, but comfortable, and I didn't care if it was slightly frumpy; this was the result. I had just finished the skirt, so I wanted an excuse to wear it anyhow.
For our Friday night outing, I wore a favorite outfit of mine:
Over-sized grey sweatshirt and black leggings. Sorry the pic is bad, I forgot to get one in daylight.
My hair wasn't quite co-operating with me tonight, so I stuck a headband up there to tame it (its growing out, and just entering the "in-between" stage). I took a pic, but it was super crappy, so no detail shot, sorry!
Well, heres hoping that all you folks have a wonderful weekend! And remember those who lost their lives in a terrible tragedy that occurred 9 years ago tomorrow. My heart goes out to those who lost loved ones, and to the survivors who still struggle with lingering damage inflicted on that day (be it physical or mental). We will
never
forget, but we will move on. God bless America!