I got quite a surprise today~ my grandmother sent me loads of fabric! I've been wanting to learn how to sew on a machine for a while now, and now that I have all sorts of fabric to work on, I can really get to work. My mother just had one condition: she has to supervise everything until she is comfortable leaving me on my own. Since it is her sewing machine, I can understand that.
Butter soft knits, seersucker prints, vintage prints, polka dots, ginghams, even trim, I have lots to choose from now! I might even try to hand-sew one or two pieces, but we'll see about that. I was able to pick out lots of scraps for my rag bag and for small projects too.
I know 100% I want to make at least a few bell shaped skirts for a sweet lolita-ish look, and make at least one dress out of the lot, but... idk, I have to learn to really sew first. Being able to reattach buttons and do a basic hem and sew small projects are one thing. creating a dress or skirt from scratch is a completely different thing.
The two on top are wonderful muted colors, I think they might become skirts, the print on both just scream skirt! to me. Maybe not anything for a lolita outfit, but the brown one might become a work skirt.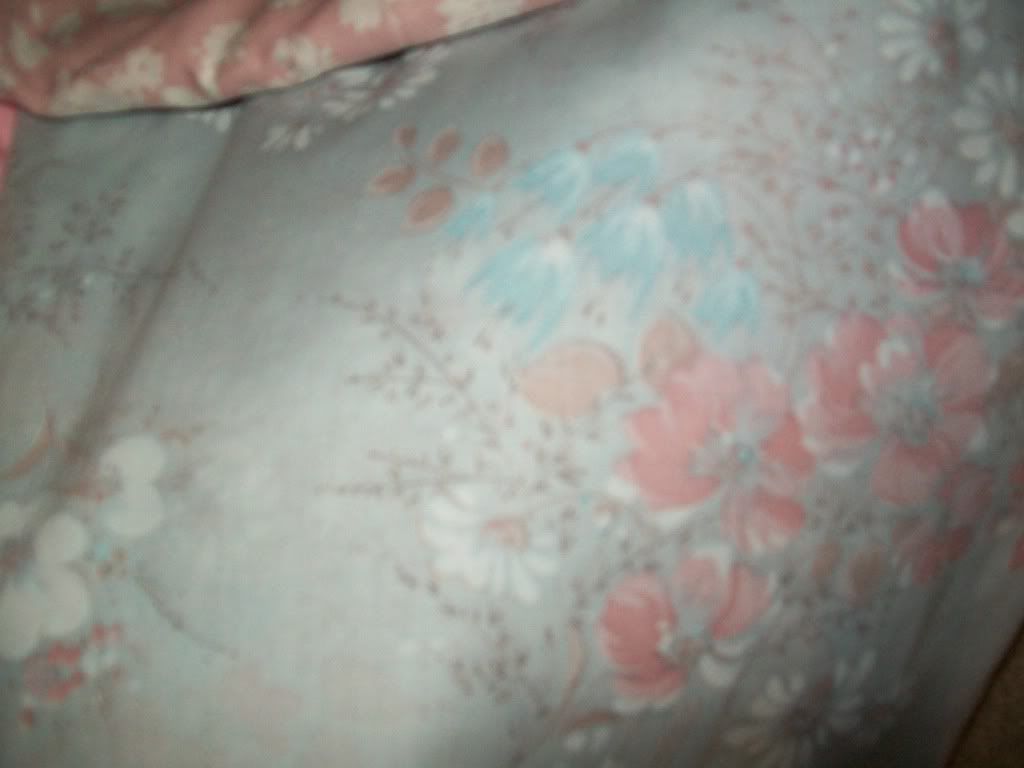 Can you see the super light/ muted pattern on the fabric? The base color is a pale grey/blue and then has cream, coral, and baby blue in the print. I LOVE them. It looks bit too mature to be for a lolita skirt, but I'm going to sit on this one for a while and figure out the best use of it.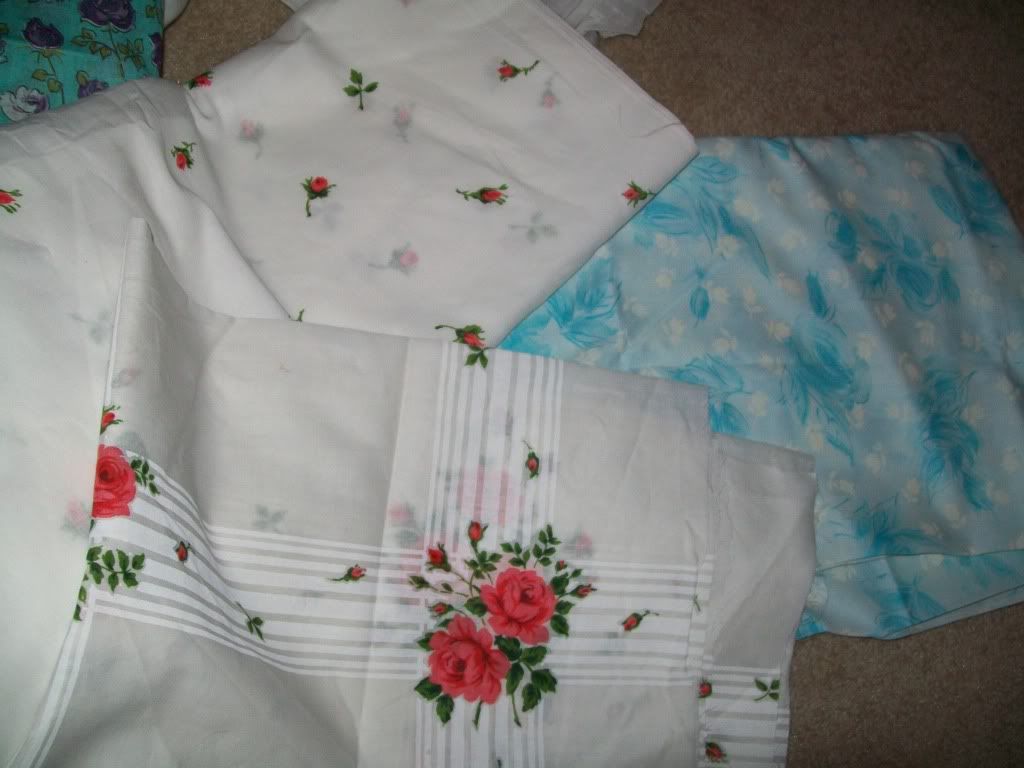 Another two fabrics that I love. The small rose print will 100% become a bell shaped skirt, possibly with ruffles or lace. The larger of the two prints is too small a piece to become a skirt, but I think that I might do something unexpected with it, like turn it into bloomers. That way, I will know that I am wearing something super cute, but nobody else will. Kind of like wearing lacy underwear to feel sexy, but in totally different way- more like the lolita version to feel cute and sweet.
The blue flowers in the back might become bell shaped too, but I don't want to get too far ahead of myself.
Look Christmas fabrics! I love Christmas, so I pulled out a few pieces. I like the idea of making a skirt out of the smaller print to use at Christmas time.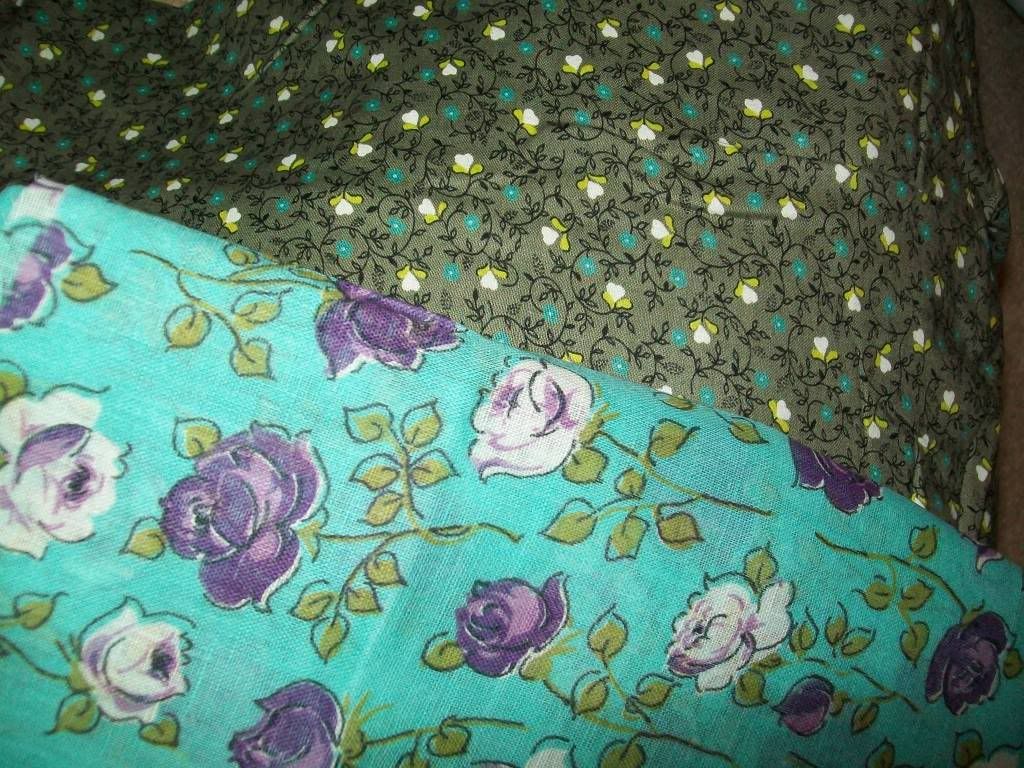 Flower prints. The dark green at the top will become something for casual wear, a shorter skirt probably.
The teal fabric at the bottom is going to be my test subject. I like the fabric, but I don't love it, so if I screw up on it, no huge loss. This is the one I'll try to make first.
This is a knit fabric, and I have yards and yards of it! I think I might make a casual dress out of this one.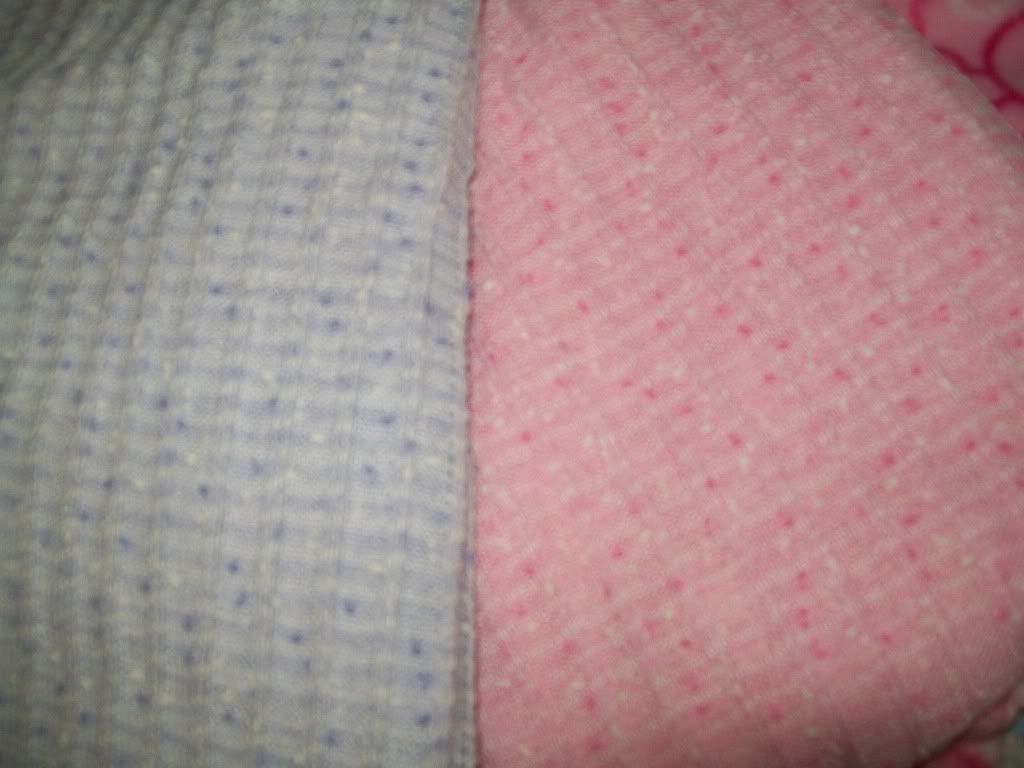 These two fabrics are just different colors of the same material. They are a sweater-ish, blanket-ish type of material. I think I might try to make a loose bolero type sweater out of the pink one to wear around the house, maybe.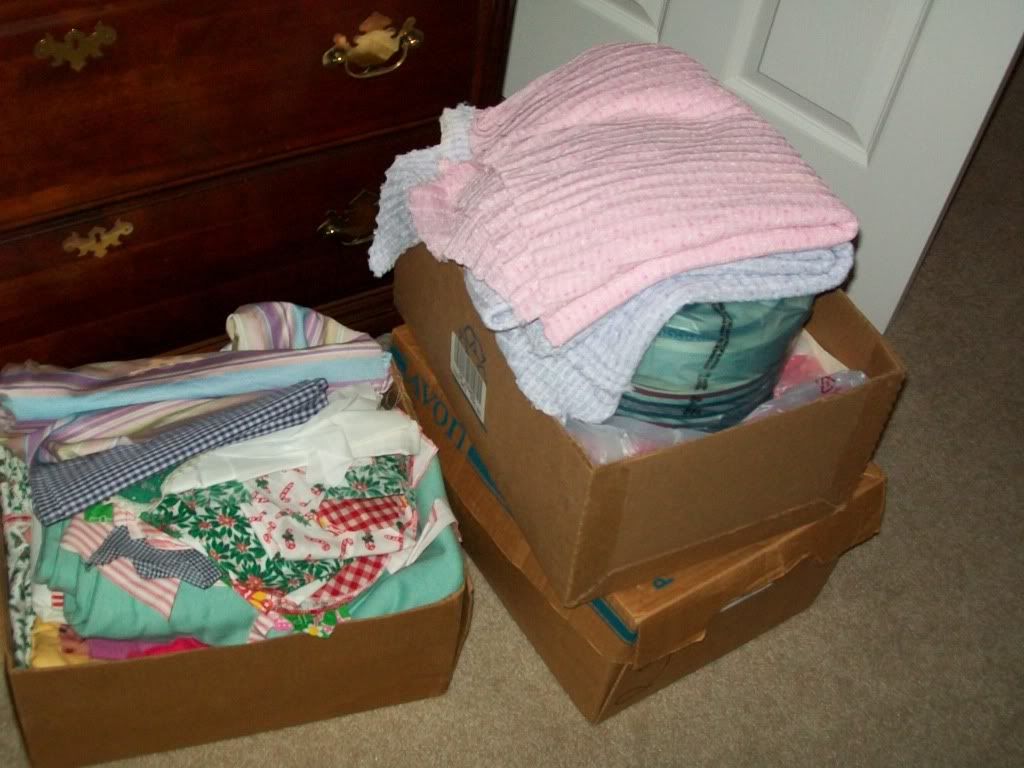 This is just part of what I brought into the house to sift through! My dad had gone to help my grandmother to sort out stuff that she is getting rid of, and he had my car packed full of boxes stuffed with fabric. I just grabbed anything that looked interesting out of the car and brought whatever I liked inside to sort out for condition and size. It was SO hot outside that I was dripping (literally) sweat in about 10 minutes. I ended up sorting all of that out as either stuff in bad condition (that got thrown away) or stuff I didn't like (that was given away to a lady who attends my church).
I also have several knit fabrics that I'm thinking of turning into shirts or something. I actually have a whole ROLL of blue jersey knit that I'm going to turn into a nightgown. I've been wanting a new one for a while, and once I saw it I knew that was going to become one. I'll probably still have plenty left over, so I feel that lots of blue jersey pieces will be making their way into my closet in the future. I think I have the stuff to make a crinoline too, but I'll have to double check on that. I do know that I have the material to make a petticoat or two to help give a bit of body to some skirts, a nice super stiff cotton (blend? not sure).
I think I will be getting more fabric in the future, my grandmother hasn't even gotten into her sewing room proper yet. She doesn't sew anymore, she has a heart condition that leaves her easily tired, so she has decided to clear out her home of much of the stuff she can no longer use. I think cleaning out the sewing room is the hardest on her emotionally, because she used to sew for a living, but she gets some satisfaction knowing that the fabric and such is going to people who will be able to use it.
As for me, I'll probably go see her in the next few days and take along roses from the garden to thank her. She will love the roses, but just going to spend time with her is what really makes her happy.