So I got lots of fabric last Wednesday, and over the weekend I started on my plan to make some skirts.
I choose to go with a gathered skirt, as it gives a nice shape. I just loooove poofy skirts... so I love how full these are! My mom kept telling me to press the gathers to flatten them out, and I did on the beige one, but it just killed the poof, so I left the pink one alone. Any extreme poof will be flattened by the squish of my closest anyways.
I wanted to use the teal and purple fabric, but it was so sheer and see through that my mom advised against it. She though that it might not hang right or be modest even if I double layered the fabric.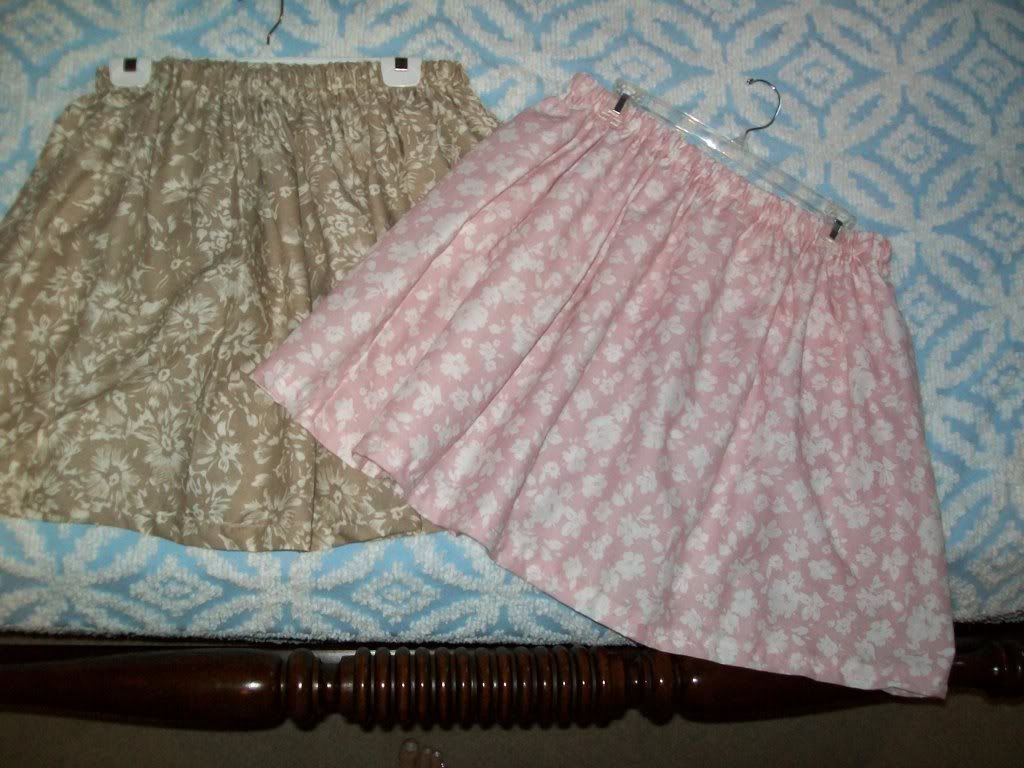 I think I'm going to try and wear the pink one tomorrow when my family goes out to eat tomorrow. I'll have to see what will match with it... I think the place we are going to is rather casual, so I don't want to be over dressed again. The fabric is like a linen, so it will need to be watched for wrinkling, and I'm going to have to wear a slip under it to make sure nothing get seen that I don't want seen.
I used the surging machine and the sewing machine in making these! The beige one I made first, and I wasn't quite able to make straight seams and hems, but on the pink one I did much better.
I used a combination of
Gertie's gathered skirt pattern
and
Ikat Bag's gathered skirt.
I mainly used the sizing from Gertie's blog (but shorter, cause I'm shorter, and didn't want a deep hem (mine is 1 inch)) and to sew two pieces (a front and back). From Ikat's tutorial, I used the waistband and hem allowances (though I am also hand stitching another skirt, and this one I did use pretty much her whole pattern, sized up to fit me, I didn't want to stitch two side seams).
Here is the beige one hanging up, so you can see how it ...well... hangs.