So I got it in my head that even though I totally FAIL at baking that I was going to make some macaroons.
I spent several hours searching the web for various recipes, before finnally finding Violet LeBeux's version. Since she is the master of all things crafty and sweet, I decided to use
hers.
However, I still had a problem, Violet lives in Australia, and I'm in America. Our measurements and ingredient names were all mixed up!
I spent more time googling to figure out what the US equivalent of some of the ingredients where, and then commented on Violet's tutorial to make sure that I had things right. She was super nice, and really helped me out, so I set off in search of all the ingredients. I'v decided to post up both her original recipe (right off her blog, so there is less room for confusion) and what we figured the US equivalent was. The only thing that I didn't change was the measurements, because hers are quite accurate, and I didn't want to fuss with changing and risk losing accuracy. You will need a kitchen scale to measure your ingredients, most retailers with a kitchen section should have them (we got ours at Target).
Ingredients for chocolate macarons with chocolate filling-
For the outside bit:
65 grams Almond Meal

Ground almonds or you can grind them yourself (I couldn't find superfine ground almonds, so I used my food processor to get them as fine as possible).

80 grams Icing Sugar

Powered or confectioners sugar

40 grams Caster Sugar

Super fine sugar (I actually used regular granulated sugar with ok results).

1 table spoon Cocoa Powder
50 grams Egg White at room temperature
Oil spray
Pinch of salt
Utensils-
Scales
Sieve
Aluminum foil
Mixing bowls
Electric beater
Baking trays
Spoon etc
Piping bag/Small plastic bag

Violet cooks her shells at 160 degrees C, the Fahrenheit equivalent is 320
Doesn't she just have the cutest colors? I'm also in love with her heart bullets.
Her original post is in
pink
,
my comments are in
blue.
Please do use Violet's tutorial to make your macaroons, I don't have near enough experience to tell you how to make good macaroons.
What I can tell you is that you don't have to go out and search the local specialty grocery store for your ingredients. I got most of my stuff at the local Food Lion, but they didn't have any ground almonds, so I had to go to Walmart -which I hate and I spent forever in the checkout line and I just wanted to get out of there.
For the caster sugar, my mom and I figured that the base of the shell was pretty much like a meringue topping, with other stuff folded in, and since we usually use granulated sugar it should work here too. I'm sure that as a result the "batter" was probably not quite as fluffy or smooth as one made with caster sugar, but it did work fine.
My ground almonds weren't as fine as Violet's, since I had to grind them at home, but I didn't really see too much adverse effect. I'm sure that they were more lumpy than normal, but I'll have to figure that one out as I go. I'll have to search the web and see what I can do about that.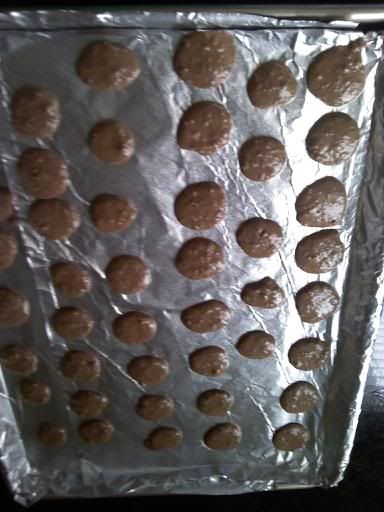 Here are my shells waiting to go in the oven.
In the end, I didn't use Violet's filling recipe. Hers calls for baking chocolate, and I had none available (I thought I did, but it was reserved for another recipe) so I ended up making my own, using the the recipe for chocolate frosting on the Hershey's CoCo box. Here it is:
Just mix the coco and the margarine together, then add in the milk and powdered sugar a bit at the time. It seems like it is too dry in the beginning, but as you keep going it all come together. I ended up with way too much frosting, so you may want to halve this, or do a double batch of the shells.
Speaking of shells, I ended up baking mine about 15 min longer than the recipe called for. They turned out kind of chewy too, but where still slightly gooey on the bottom... I'm going to have to play around with this to get it just right. I fail at baking regularly, so it doesn't surprise me that they didn't come out 100% right the first time. I do however think that it was a really good try, and definitely want to try again.
The tops look sooo perfect in the shot, all round and crinkly on the bottom.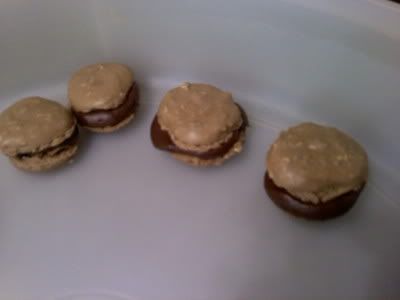 A couple of the finished one in the container.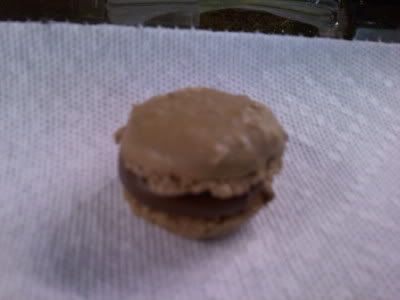 Slightly more sideways view.
Final verdict? Violet makes a mean macaroon, and I'm still figuring mine out. Thats ok though, I'll get it right in the end. Once I do, I'll be sure to post a new recipe for it. What I really want to try is a strawberry one... yum!